Armand Rabanal
Age: 34 Grade: 10th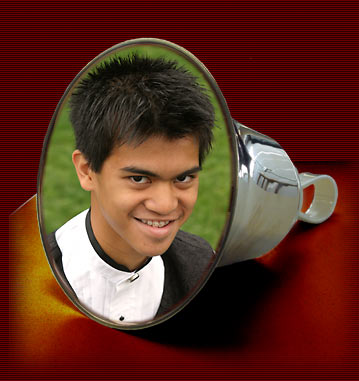 Armand is into learning classical guitar. He likes to play it whenever he can including Tuesday morning assemblies at school. He also likes to play the piano in the afternoon. His favorite subjects in school are Reading, Spelling, Music, and Essential Living Skills.
Armand is also very athletic and is good at Wushu or Martial Arts. But he also likes to draw and loves to spend time with his sister (former ROF member) Marnellie. His favorite restaurant is Sweet Tomatoes because it has the best salads... in fact it is the only place he will eat salads.
Being in ROF has helped Armand improve his musical skills and has taught him more about how to concentrate. He also has really enjoyed the opportunities to go to new places and meet new people. He enjoys learning about the geography of each place. But most of all he enjoys ROF for the handbell music he enjoys playing.
This year, Armand is attending Upper Columbia Academy near Spokane, WA. Someday he aspires to be a classical guitarist and get a masters degree in music. He plans to attend La Sierra University and to compete in Wushu Competitions in the Garden Grove, California area, and eventually be part of the US Wushu Team.