Darcy Sturges
Age: 16 Grade: 11th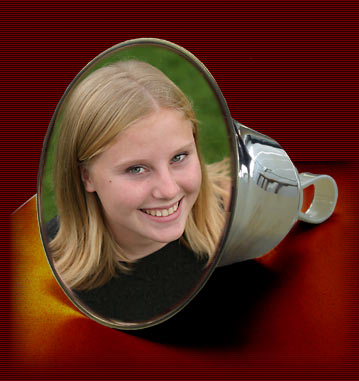 This is Darcy's second year in ROF, but she has been connected to the bell world for quite some time. In 5th-7th grade she was in some of the beginning and intermediate bell choirs at TVJA, and during her freshman year she was part of Tempest, a bell group based in Salem, Oregon. Her brother, Ryan, was in ROF three years ago.
During her rare spare time, Darcy enjoys oil painting, dancing in front of her mirror, being in the drama club, and listening to Christian Rock. She also enjoys waterskiing, wakeboarding, snowboarding, and backpacking with her friends. She says, though, that it's hard to find time to do some of the things she loves because of homework, bells, and a job. "It can be really stressful at sometimes...actually, a LOT of the time!"
Her favorite subjects in school are English (especially reading Shakespeare), drama, lunch, and photography. Her old '77 Chinon camera is, to her, is the best camera ever invented because all of the features are 100% manual. She's also the Spiritual Vice-President of the Associate Student Body, and loves every minute of it.
This year, she is attending Upper Columbia Academy near Spokane, WA. In the future, she wants to see a real-live surgery (perferably brain or open-heart), travel Europe, learn Romanian, French, and Spanish. Eventually she hopes to move to Alaska and be a high-school English, art, or music teacher there.