Jason Wells, Director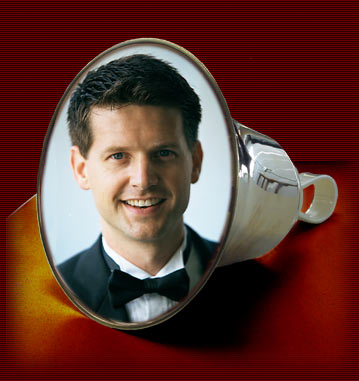 Jason's passions for life escape beyond the world of handbells. Photography has been an outlet for Jason's creativity and he often works as a professional photographer, shooting weddings, portrait work, and corporate jobs.
In 1998 Jason did a full color book for the opening of the Bellagio Resort in Las Vegas. He shot underwater in the fountains, hanging off the roof, Chihuly installing his 10 million dollar lobby chandelier, and in every secret back room imaginable. Jason remembers it as a fascinating four-month adventure where he shot over 700 rolls of film!
Jason's wife Heather is a neonatal intensive care nurse in Portland, Oregon. They have two golden retrievers and in 2002 raised 15 puppies in their living room!
Jason and Heather have led mission trips to Honduras, high school study tours to Europe, and continue to actively travel when the opportunity presents itself.
Highlights of Jason's travels are hiking on the Great Wall of China, spending the night atop Mt. Sinai in a sleeping bag, diving with 400 sharks in Palau, honeymooning in a thatched hut in Fiji, exploring the lost city of Petra, parasailing in Bali, and windsurfing in the Persian Gulf.
Jason is an avid skier, snowboarder, scuba diver, and is passionately in love with his wife Heather.
Jason is fascinated with story, as it is all our individual stories, while different, that connect.
His favorite movies due to their powerful themes are Meet Joe Black (live without regret), Dead Poets Society (seize the day), and The Power of One (a waterfall starts with a single drop of water).