Jeffrey Terreros
Age: 16 Grade: 11th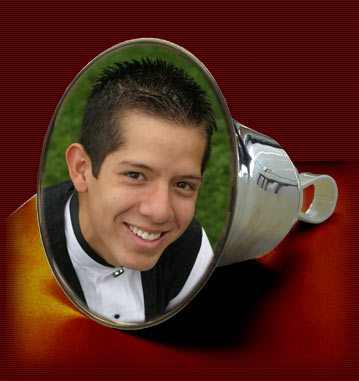 Jeff likes to spend time listening to music, talking to girls, working out, sleeping, going out with friends, watching movies, playing soccer, and going on tour with ROF. His favorite subjects in school are Math and P.E. He likes to draw and made some great paintings in 2nd and 3rd grade. His favorite food is steak, because he likes cows. He also likes lasagna with lots of cheese and Mexican food because it's greasy. He says he was very fat when he was 6 yrs. old but not any more. Tommy is his favorite brand of clothes.
What does Jeff enjoy about being in ROF? He enjoys the tours they go on and the fun of sleeping on gym floors. He also likes playing basketball or video games when he's not in concert. He likes hanging out with the friends in ROF and going to places he never imagined being able to see. ROF has benefited Jeff in getting closer to his friends and also witnessing how the music has touched people everywhere they go. He has gained from seeing new places and meeting new people.
This year Jeff is attending Portland Adventist Academy in Portland. In the future, Jeff plans to go to college to become an architect and building an outstanding building. He also plans to continue working out to keep his body in great shape.