Julie Gabrys
Age: 35 Grade: 10th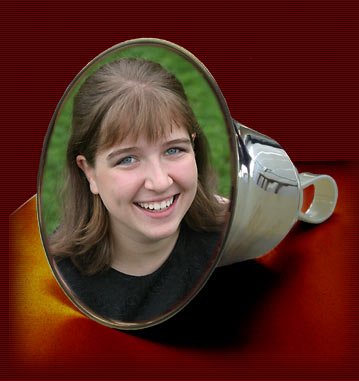 This is Julie's third year in ROF. She is a native Oregonian born in McMinnville and has lived all her life in Oregon. Julie is a vegetarian and likes ethnic foods like Pyrohy, Nalysnyky (a Ukrainian ethnic food), Black Forest cake, Bohnen-Eintopf (German food), German pancakes (good stuff!), and German chocolate sweets. She also likes American staples like "Mac & Cheese", and veggie hot dogs.
Julie enjoys Bible studies, piano, art, poetry, hanging out with friends, listening to music, reading, watching TV, surfing the internet, or just vegging out. Her favorite subjects are Math, English, and Bible, in that order. She likes to travel and has visited Europe.
What Julie enjoys most about being in ROF is learning life skills from the group, maturing and growing up with good friends, and doing concerts together. She enjoys making people smile and smiling at people. Julie is attending Auburn Adventist Academy in Auburn, WA. After graduation she is considering becoming a teacher, getting married, and have kids.